Here Is What Comes In Your Bonus Package With The Purchase of 
IPocket Video
Module 1 - CREATE VIDEOS THAT LOOK LIKE THEY WERE SHOT ON $2,000.00 CAMERAS
Stand out from the competition, convert higher, and get prospects begging you to create videos for them with these little known secrets that will transform drab, low-quality phone videos into stunning works of art.
The best part? It takes about 15 seconds of "work" on your part to accomplish this.
Module 2 - 5 STEPS YOU MUST TAKE TO ENSURE GREAT FILMING BEFORE YOU START
Ever put time and effort into filming a video, just to need to re-film it?
These 5 steps will virtually ensure that this never happens to you again.
Take these simple steps and save money, increase conversions & boost your sales!
Module 3 - CRISP, PERFECT AUDIO
Good quality audio is proven to increase viewer retention and conversions. You'll see the simple way to get high quality and professional sounding audio
Module 4 - THE BEST WAY TO RECORD COMPLETELY HANDS-FREE YOU ALREADY HAVE THE TOOLS!
A neat little hack on how to start and stop recording from your Smartphone without ever touching the phone. This allows you to control recording from distance and prevents shaky footage. You already have the one simple tool it takes to do this.
Module 5 - CREATE STUNNING DEPTH OF FIELD SHOTS
The holy grail of video is a focused subject and a blurred background. Most people think only expensive gear can accomplish this, but you'll discover how to get a similar effect on your phone.
Module 6 - STABLE SHOTS MADE SUPER EASY
Shaky footage immediately gives off an "AMATEUR" vibe.
Luckily, you'll discover how to ensure stable filming even as you hold the camera.
That's right, no tripod necessary!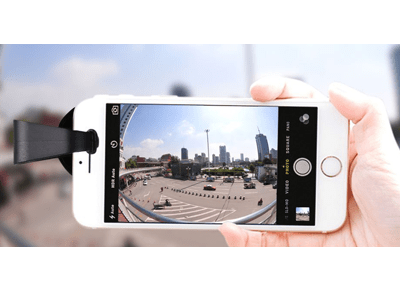 Module 7 - LOOK LIKE A MILLION BUCKS, WITH 1 SIMPLE TRICK
Wide-angle videos immediately indicate higher quality and increase retention and conversions.
They also make filming much easier and subjects more flattering.
While others invest in expensive cameras and lenses to achieve this, I'll reveal a simple inexpensive tool that will create the exact same effect on your Smartphone.
Module 8 - GUARANTEE PERFECT, STEADY EXPOSURE AND FOCUS EVERY TIME YOU FILM ON YOUR SMARTPHONE.
See how I ensure that all of the Smartphone's traditional issues with exposure and focus disappear.
You'll also have the power to control the white balance, manipulate the light source, and shoot in slow motion, sped-up motion, and more.
Module 9 - MY PROFESSIONAL SMARTPHONE FILMING SETUP
Now you can get the same ultra high quality videos that I do, all from your smartphone.
Tap into all of the tools in my personal arsenal for shooting professional videos on my smartphone.
Module 1 - THE SECRETS TO BEAUTIFUL FOOTAGE
Watch real-life examples of how to create a mood by using different types of shots.
You'll also discover how to film a wide variety of shots that gives your videos a professional and authoritative vibe and you'll know how to use them like a pro!
Module 2 - FILM RULES THAT MAXIMIZE VIEWER INTEREST
Learn about advanced filming rules and techniques such as the rule of thirds, using B-roll and other composition tricks to ensure your video is high quality and captivating regardless of what hardware you're filming on.
Module 3 - LIGHTING LIKE A PRO
How to take advantage of very low budget, easy-to-use lighting that does a professional job.
Module 4 - MOVING HEAD VIDEOS DONE RIGHT
Filming yourself (or someone else) talking on camera is a very popular video style, yet most are filmed wrong!
They're painfully boring. You'll see how to have the best lighting, videos
Module 1 - NEVER FEAR EDITING AGAIN
Watch over my shoulders as I show you step by step editing instruction that even your grandma can do!
I'll even show you a simple way to edit your videos completely inside of your smartphone!
In fact, your smartphone does all of the work for you.
This is great if you don't want to, or can't, upload your videos on a computer - and it enables you to edit and upload in just minutes!
Module 2 - ADDING MUSIC
Music makes your videos much more interesting.
You'll see where to find the best royalty-free music and how to add it to your videos so that they work perfectly with your footage.
Module 3 - ROYALTY-FREE STOCK FOOTAGE
I'll show you how I add extra stock footage to my videos to help break up the content and make everything more interesting - no need to film anything yourself with this little trick... and you do everything right from the Smartphone. No extra tools needed!
[useful_banner_manager_banner_rotation banners=4,15,16,17,18,19,20,21,22,23 interval=7 width=468 height=60 orderby=rand]